Lake Geneva has long been known as one of the most beautiful destinations in Switzerland, with charming towns and impressive natural scenery that has lured everyone from actors, to emperors and queens. There are endless activities and unique ways to explore the region, but, to fully enjoy it, there's nothing quite like an afternoon cruising the shores with Genevaboats — the region's leading boat rental business, bringing luxury, style and adventure to the lake.
When Balthazar Witzig, owner of Genevaboats, launched his business in 2011, the boat world got a little more interesting. Those in the know will instantly recognise the hallmarks of his brand: gloriously pristine and technologically advanced boats for rent and sale, with everything from fishing cruisers, to sleek motorboats and some of the most sophisticated sailing yachts on the lake. Part of the formula is having access to a superior portfolio of boats, while offering clients endless cruise possibilities—with unique itineraries to hidden gems—and a personalised service that makes each experience unforgettable.
Interlacing an intense passion and love for the nautical world, with a profound knowledge and understanding of the industry, Balthazar offers unparalleled cultural voyages that rejuvenate and exhilarate the soul. It's about embracing new possibilities, which is why Genevaboats is also a partisan of sustainable yachting technologies and best practices. From thrilling water sport activities, to sightseeing trips and romantic sunset cruises, whatever you choose to do, Genevaboats has you covered.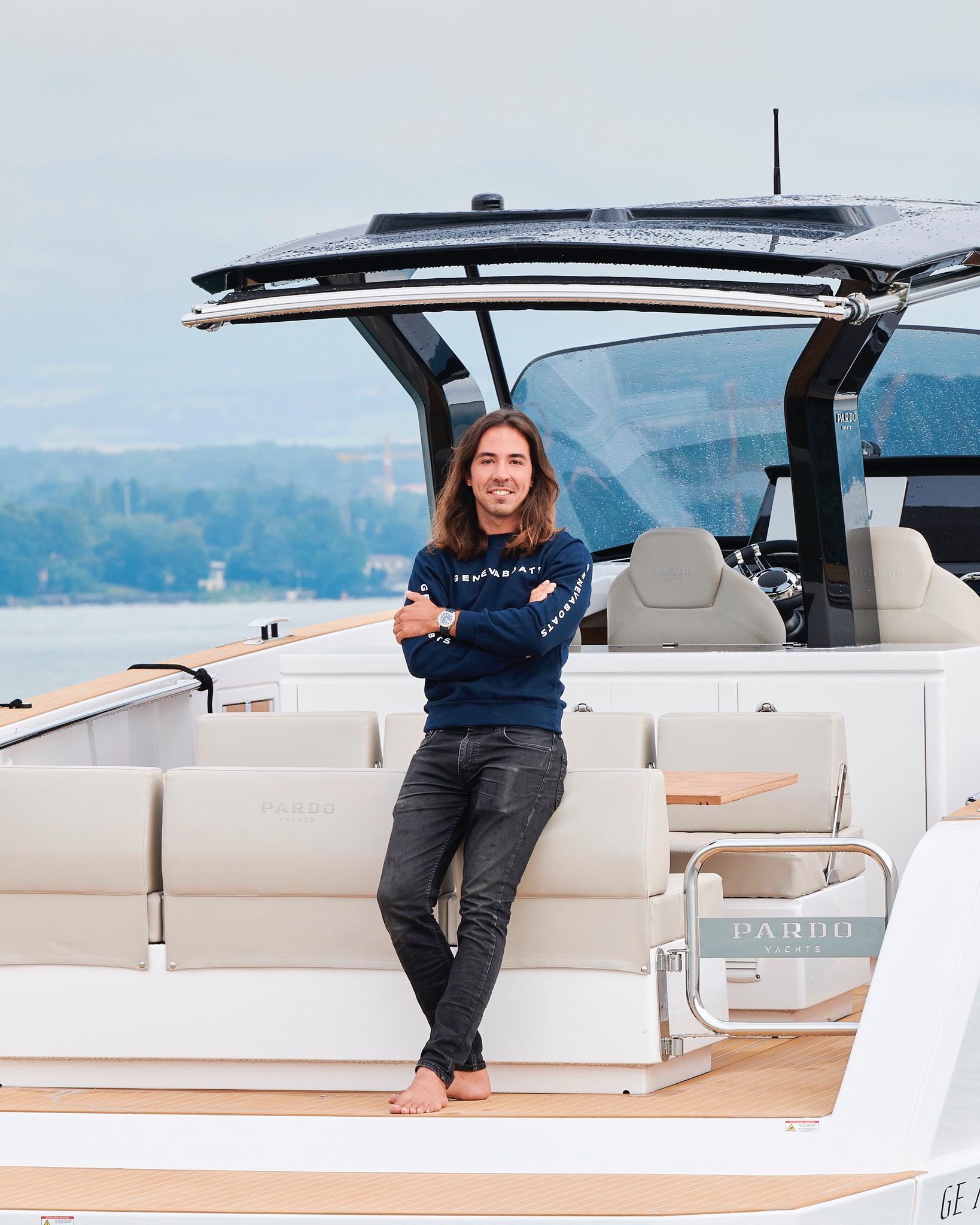 What lead you to create Genevaboats?
Growing up by the lake instilled in me a deep affinity with water activities like fishing, swimming and sailing, and strengthened my passion for the nautical world. Soon after buying my first fishing boat, I worked as a tour guide for a South Korean billionaire off the coast in Geneva, and quickly realised what I could offer to the region. This unique encounter turned out to be an extremely rewarding experience for both the client and myself, and triggered the idea to start my own business on the lake. I went on to launch Genevaboats in 2011, so I could share my passion with others and work in the environment that I love.
What can we expect from Genevaboats?
We offer endless options in terms of boats and experiences, adapting to our client's needs and creating tailor made itineraries that ensure enjoyment for everyone. Having access to the most dynamic fleet of boats in Geneva, our clients are able to choose from a wide variety of vessels, without ever compromising comfort or style. And whether you are new to using boats or a veteran on the lake, no request is too small or too big; it's really about finding the perfect fit for our clients and ensuring they have a good time.
Discover a superior selection of boats for rent and sale
Do you offer tailored boat experiences?
With more than 15 years on the lake, we have established a reputation of offering tailored services and boat experiences of the highest quality. Whether it's creating personalised itineraries with visits to the finest lakeside restaurants—through booking our speciality private restaurant cruise—or recommending a selection of thrilling activities and sailing routes, we match the needs of our individual clients and ensure their fulfilment. Our specialised team, compromised of well-educated pilots and knowledgable skippers, truly take pride in matching personal preferences with the best-suited charters, because our clients satisfaction is the motto.
Explore Genevaboats Cruises
What are your favourite boats on offer and why?
Our new arrivals like the sleek PARDO 39 and the COBALT R7, are some of my favourites. These vessels are superior in style and technology, and have been designed to offer spaciousness, comfort and high performance. With the PARDO boats, for example, these provide maximum space with large sofas, extended sunshades, mood lighting, a swimming platform and air conditioning to keep things cool. We carefully curate a selection of the most advanced boats, in terms of comfort, technology and design, and ensure that they all contain hulls, which allows for smooth navigation as opposed to bumping on waves.
What are the most popular boats requested by clients?
These past few years we have been very successful with our big yachts like the 'WHAT ELSE' Azimut Atlantis 55—the largest private motor yacht on Lake Geneva— as well as with our COBALTS R5, R7, and WakeSurf models which are perfect for water sport activities. Offering the largest fleet of boats for rent in Geneva, with the biggest variety, there's really a lot to choose from. Whether it's a romantic proposal cruise on one of our elegant sailing boats, or a birthday party with live entertainment on super sized motor yacht, we offer endless possibilities with something for every occasion.
The yachting industry is making efforts to reduce its ecological footprint through sustainable practices, new technologies and green initiatives — do you practice sustainable yachting?
We are certainly warm partisans of all sustainable yachting attitudes and practices. Over the past few years we have seen the rise of hybrid yachts and many builders are experimenting with sustainable materials, and renewable energy designed to reduce fuel consumption. We have implemented a large number of eco-friendly brands in our portfolio too, like BENETEAU and GRAND SOLEIL YACHTS, along with the new all-electric Swedish XSHORE BOATS—made up of recyclable elements— and the hybrid solar boats from GREENLINE — who's name speaks for itself.
Elevated Living Newsletter
Sign up to our weekly newsletter and get inspiration and news delivered straight to your inbox.