When it comes to owning a watch, there's no shortage of styles available. From diamond-encrusted showpieces to rare, vintage finds, there's something out there for everyone. But as your watch collection grows, so will your interest in protecting it, along with the difficulty of finding a watch case that is equally as stylish and functional, as the timepiece inside. Timenest provides the answer to all your watch box needs, and is the forward-thinking, luxury watch case brand, reimagining the industry while keeping your watches safe, and looking good too.
Launched in 2021 by Raphy Fathi and Clement Cuq, Timenest has quickly carved out a unique name for itself, developing some of the most sophisticated, multifunctional and design-oriented watch cases on the market. Born from the Geneva-based entrepreneurs's passion for timepieces and personal search for storage solutions, the brand reinterprets traditional styles, offering  ultra-sleek, customisable cases that elevate the overall experience of owning a watch. Interlacing a highly evolved design methodology, with some of the world's finest materials and engineering techniques, Timenest not only cares for your watch, but highlights its beauty in a modern way.
The brand's attention to detail is apparent in almost everything it does: from its innovative selection of Nest cases, composed of superior French-calfskin leather and Italian Alcantara; to the sleek Table Nest unit, a timeless leather-clad storage tray—handcrafted using Statuario marble from Verona—made to guard your case, while complementing your interior decor; and even their own Bergamot-infused perfume, that simply makes you feel good. Whatever it may be, Timenest is changing the dialogue and setting new standards for the industry as a whole.
Read on for our interview with founders Raphy Fathi and Clement Cuq, where we discuss how it all began.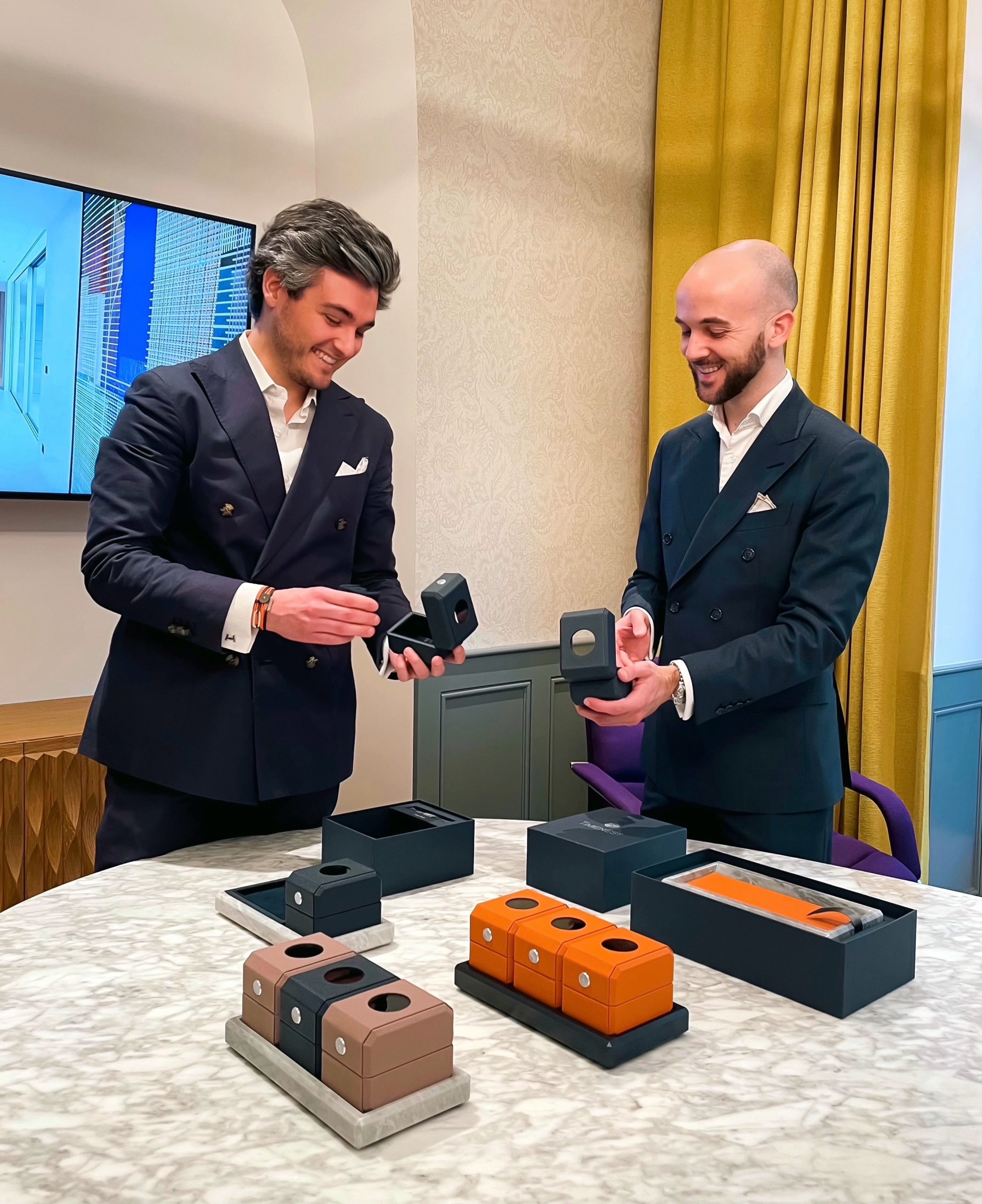 What lead you to create Timenest?
Growing up in Switzerland, the home of watches, we always had a profound love and deep respect for the world of watch-making. But it was actually through the personal struggle to find a stylish and functional case for our friend, that we identified a gap in the market and an opportunity to make a change. Everything we found was either too big, bulky or simply lacking a modern design. And from here Timenest was born.
We sought to create a brand with a strong DNA , starting with a name that would highlight our dedication to creating a safe and protective nest for any watch, and for all occasions. After much research, we partnered with talented Swiss designer, Jean Marc Salemi, who shared our same vision of developing something contemporary, multi-functional and that could resonate with the modern shopper. Finding a responsible manufacturer and sourcing high-quality products was also something hugely important to us, so we scouted near and far, and fortunately located S.I.S; one of the most prestigious leather producers in France, whose undeniable savoir-faire is evident in all their creations, along with CITCO; a superior marble manufacturer, who hand-craft our Table Nests using the finest marble in Italy. Through Timenest, we truly hope to connect watch-lovers with cases that are unique, modern and versatile — something to treasure and be proud of.
Tell us about the creation process. What inspires the designs?
Everything was designed with the greatest functionality and style in mind. We worked tirelessly with Jean Marc to create something modular yet presentable, travel-friendly but still stylish and able to highlight your watch in the best way. We also wanted a customisable product, which lead us develop different colours and compositions, and a case lid that could carry personalised drawings, making the product unique to each individual. Out of many different ideas, we finalised our portfolio of Nest watch cases—available in shades of taupe, orange and blue—along with our Table Nest trays; featuring modular, storage units, that enable users to assemble their cases and store accessories in the most beautiful way. Even down to the circular glass tops, that allow you to easily identify and admire your watch from a far, our cases are designed to protect and accentuate your timepiece, at home and when travelling the world.
something for every occasion
What is your favorite piece and why?
Raphy: The Table Nest in grey marble has to be one of my favourites. The marble gives off a very elegant feel, and I love how each piece is unique and never carved the same way twice. I also admire the versatility of the design, being able to safely store my watch alongside cufflinks and other accessories that I own — it truly speaks to the brand and showcases how dynamic it is.
Clement: For me it has to be the Trilogy unit, with orange coloured Nest cases on top of an aluminium tray. I own several watches and love the way the product seamlessly presents all my pieces together, so I can truly appreciate each one for its own unique beauty — the bright orange leather is a showstopper too.
What kind of person owns Timenest?
It's for people who value their watch as more than just a product, but as a work of art, that should be protected and showcased in a unique way. They appreciate high-quality materials and care deeply about design, and feel that their accessories, and the nests that protect them, reveals something about their personality and are a unique way to express themselves. Our customers enjoy the overall experience of guarding their treasures, in a beautiful way.
Describe your products in three words?
Multifunctional, contemporary and stylish.
What is your approach to sustainability?
Sustainability is hugely important to us, which is why we are committed to working with responsible suppliers, manufacturing locally (wherever possible) and investing in Swiss talents; which not only minimises our carbon-footprint, but empowers a local community of artisans. All members of our supply chain are audited and follow the industry's best practices, from our renowned leather manufacturer in France; whose EPV label symbolises its sustainable efforts and consideration of the environment, to our eco-friendly and circular packaging, produced locally by artisans in Switzerland. We ensure transparency and guarantee longevity with all our products.
Is there anything else we should know? What can we expect from Timenest this year?
Ahead of Valentine's Day, we will be hosting a special pop-up at the beautiful Signature — Quartier des Banques in Geneva, from 09:30-19:00 on the 11th of February. At the event we'll be displaying our limited edition Valentine's Day collection, available for sale, as well as the possibility to personalise your case with a local artist, who will be on-site customising pieces throughout the day. It's the perfect opportunity to discover our products, explore the wide range of options available and take part in the Timenest experience.
Elevated Living Newsletter
Sign up to our weekly newsletter and get inspiration and news delivered straight to your inbox.