It's no secret that the watch industry has long been ruled by a handful of major luxury watch brands dominating the market. While this still holds true today, as the global demand for luxury watches increases, so has the surge for unique offerings by independent watchmakers, bringing fresh ideas and creativity to the table. There's a wave of new brands making headlines, but it's innovative designers like those behind the nautical-inspired watch brand CHEVALLEY LE BRIS, who are breathing new life into the craft and playing by their own rules.
The Swiss brand — aptly named after its founders Laurent Chevalley and Raymond Le Bris — specialises in crafting high-quality, customisable timepieces with Swiss movements and bold designs inspired by the maritime world. Paying tribute to seafaring voyages–of which they are both passionate devotees—the creators combined a nautical aesthetic with a timeless style, and a modular functionality to give it a contemporary, avant-garde feel. The result is the exceptional ARMADA COLLECTION, an evocative series of timepieces made in Switzerland, marked by intricate dials and sumptuous materials like pure mahogany wood—to imitate the glossy yacht decks—contrasted with titanium and stainless steal for durability. It even boasts an impressive and complex interchangeable clasp system, allowing wearers to change their case or strap depending on where the winds take them.
Playing with unique textures and materials, while maintaining the finest Swiss movements and technology, CHEVALLEY LE BRIS presents itself as a perfect ally for adventurers, allowing them to adapt to any situation and discover new territories with endless possibility. The horological masterpieces interlace the founder's design know-how, with their passion for exploration, and quite literally, a unique story that inspires.
Read on for our interview with co-founder Raymond Le Bris, where we discuss how it all began.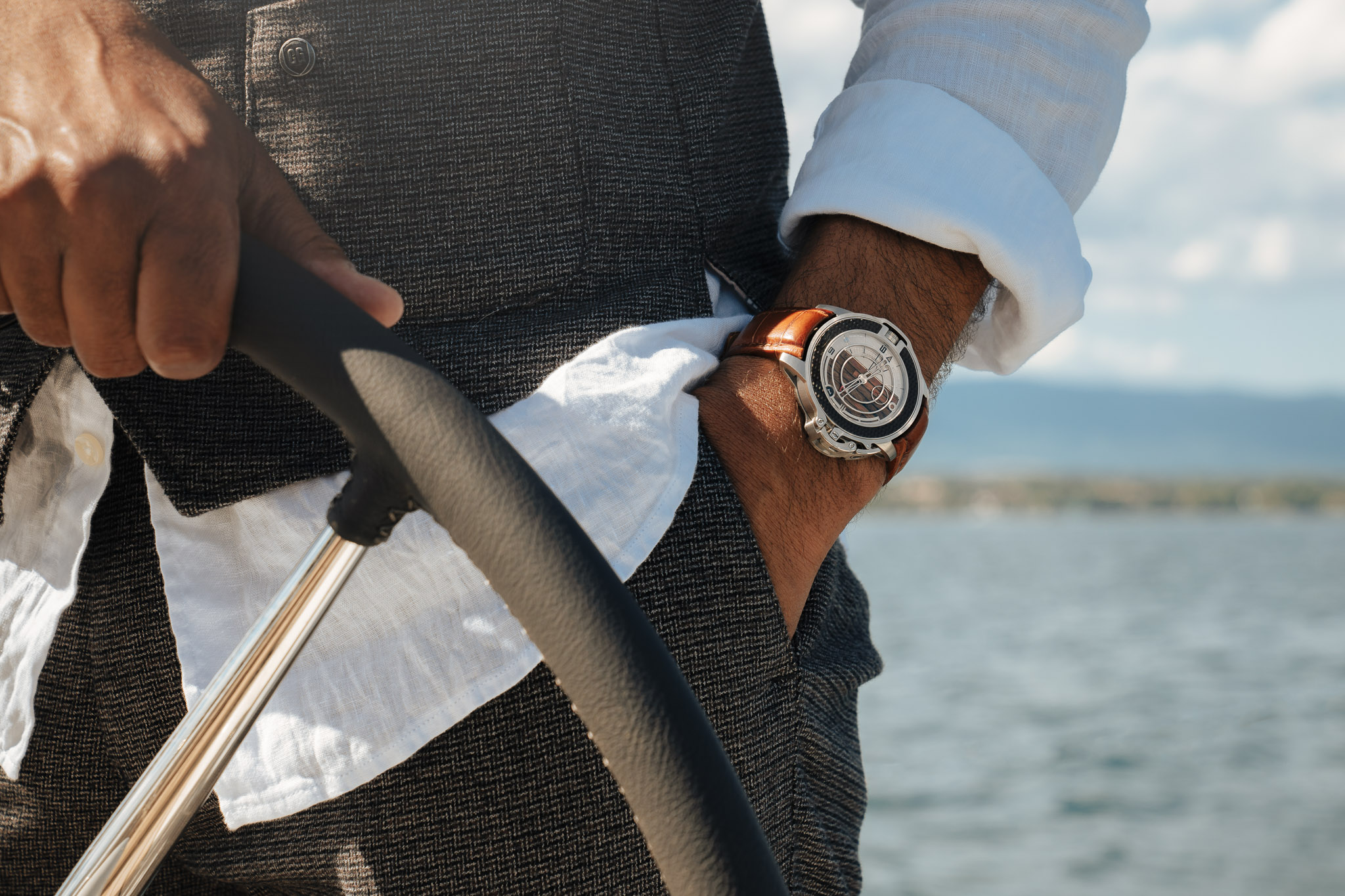 Element N°4 watch © Alex Teuscher Photography
How did you get into watchmaking?
I began my career working at the United Nations in Geneva, and while I enjoyed the work that I did, I always felt drawn to design and wanted to enter a field I was more passionate about. I enrolled myself to evening classes in product design, and funnily enough, that's where I met my friend and co-founder Laurent Chevalley, as we worked on many different projects together. Being both interested in watches and sharing the same passion for  nautical adventurers, we teamed up for one of our projects and designed a contemporary watch inspired by the marine world. As Laurent was naturally skilled at sketching, while I had advanced in 3D design, we were able to combine our skills together and bring to life our first product. After months spent perfecting our designs and evaluating  feedback from different friends, in 2019 we decided to launch our namesake label, CHEVALLEY LE BRIS.
Tell us about the creation process. What inspires the designs?
For both Laurent and I, it's always been about our love for travel and finding ways to translate this into our designs. We have always been inspired by the ocean and the beauty of classical yacht boats, which is why we wanted to create a watch that could evoke the spirit of this world and its endless adventure. We eventually focused on an inspiring story about a Norwegian explorer Roald Amundsen, who was the first man to successfully navigate the North-West Passage into the Arctic. We took inspiration from Amundsen's ship, made up of glorious wooden decks and grand mainsails, and decided to inject pieces of mahogany or teak wood into our Element N°4 watch, to mimic the decks and bring to life his voyage. Even down to the design of the modular case and its sophisticated clasp circle—which was a challenging system to develop—we wanted to give wearers the freedom to change their watch depending on where the journey takes them, allowing for limitless travel and exploration, with a modern timepiece by their side.
What is your favourite piece/combination from your collection?
It has to be the Element N°4 timepiece with its wooden lining. We loved the idea of mimicking the wooden deck of a sail boat, and worked closely with marquetry artist, Bastien Chevallier, to seamlessly bring this element into the watch.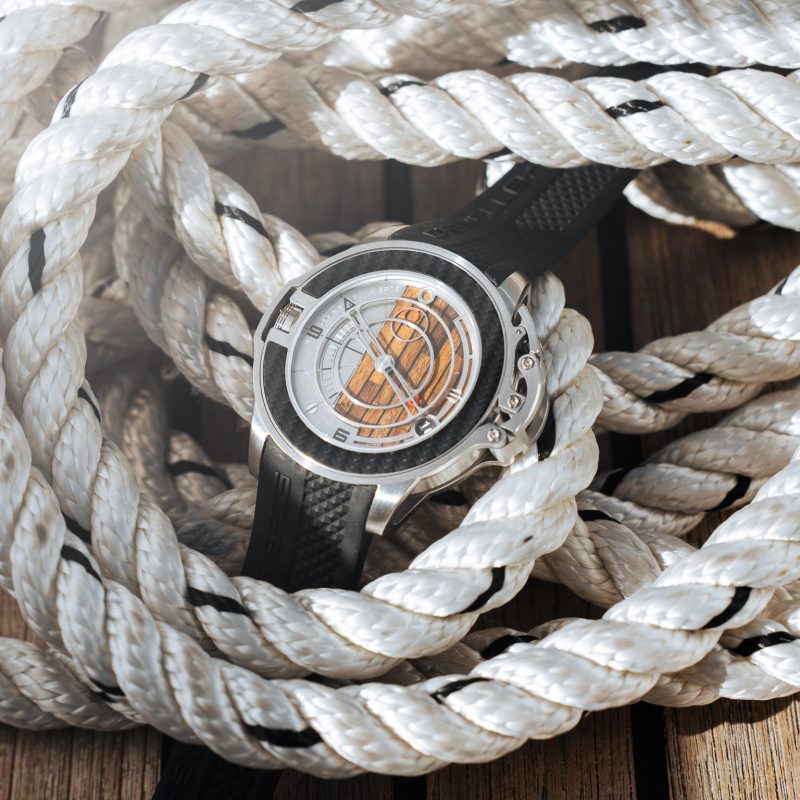 Element N°4 watch © Alex Teuscher Photography
What kind of person owns a CHEVALLEY LE BRIS??
Our clients are people who love unique and luxurious watches that tell a story. They admire the nautical world or might even own a few boats themselves, but most importantly, they want to explore with freedom and style.
What is your approach to sustainability?
Sustainability is something hugely important to us and we try to integrate into our processes, wherever we can. It's our duty to provide clients with watches that are not only beautiful, but also responsibly crafted, which is why our watches are 100% made in Switzerland, using locally sourced materials. And for the materials that we outsource—like the mahogany and tweak wood—we specifically purchase traceable products to ensure the best ethical and social practices are kept. Working with local craftsmen also empowers our local community, while enabling us to oversee all processes and ensure transparency for our clients.
What makes CHEVALLEY LE BRIS different to other watch brands?
We don't follow the market or track what sort of style is popular at any given time, we do things our own way, and are dedicated to creating watches that evoke the spirit of exploration in us all. We celebrate the exceptional talents of craftsman in Switzerland, and showcase to the world the creativity and uniqueness of Swiss watchmaking.
Elevated Living Newsletter
Sign up to our weekly newsletter and get inspiration and news delivered straight to your inbox.