When it comes to jewellery, the industry is constantly evolving, offering new technologies and materials that are changing the way we design. A wave of young jewellery brands are reimagining the art-form, abandoning traditional shapes and styles, and playing by their own rules. But every so often, a brand comes along that stops us in our tracks, creating industry-changing pieces that pave the way for a revolution. THE RAYY fits into this space, being the creators of the world's first 'light-shaping' fine jewellery, that pushes the boundaries of technology and design, and sparks a conversation — and we mean literally.
Launched in 2019, THE RAYY is a Switzerland-based fine jewellery brand that fuses scientific innovation with superior Swiss craftsmanship, creating avant-garde jewellery that sets a new standard for creativity. The brand offers infinitely customisable, ethically made gold rings and pendants, that use cutting-edge technology to reflect sunlight and reveal hidden messages within their surface. Born out of scientist co-founders Yuliy Schwartzburg and Romain Testuz's fascination with sculpting light, the brand's ingenious pieces are a powerful means of expression, giving wearers the unique ability to project a thought, share a meaningful idea or date, and most importantly, express their individuality.
The jewellery is beautifully designed too. Informed by clean lines, minimal shapes and abstract details, THE RAYY's pieces are the work of creative director Noémie Arrigo, whose subtle yet standout designs speak for themselves, while allowing the light to shine. Exuding a sensibility and style that is both modern and timeless, and consciously made of responsibly sourced materials and lab-grown diamonds, their inspiring creations have redefined the future of fine jewellery, and are kind to the planet too.
Read on for our exclusive interview with co-founder, Romain Testuz, and creative director Noémie Arrigo.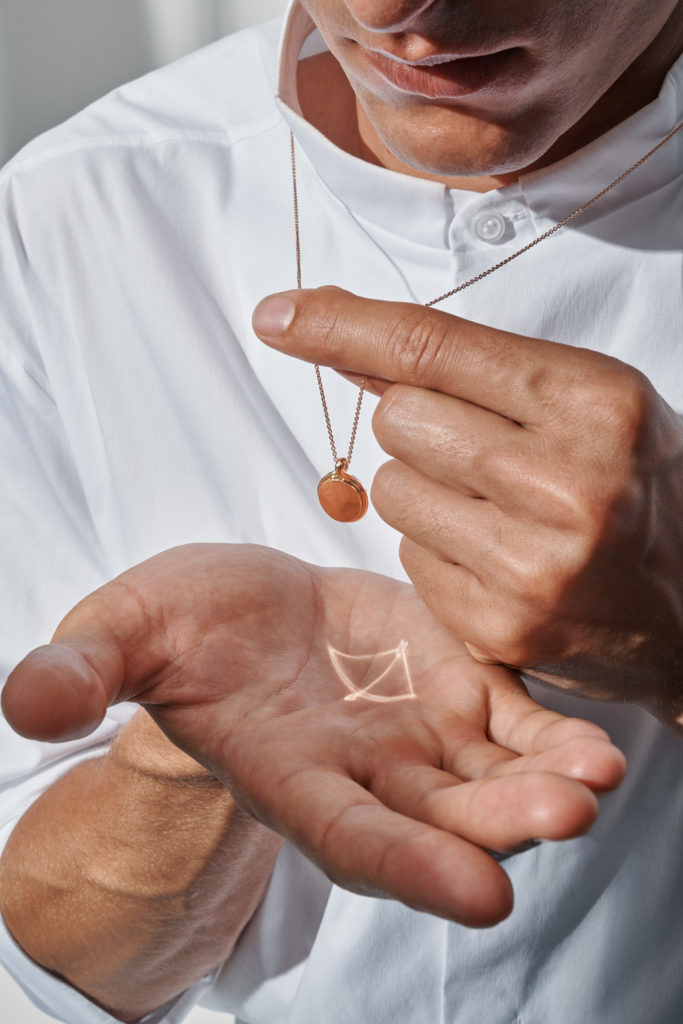 What lead you to create THE RAYY?
Romain: It all began at the Swiss Federal Institute of Technology in Lausanne, where I was researching into the ability to control or 'sculpt' light with fellow scientists Dr. Yuliy Schwartzburg and Prof. Mark Pauly. There, we developed and patented a never-before-seen technology, that alters the way light reflects on different surfaces. It allowed us to create invisible engravings, that when touched by light could reveal hidden messages or images — and the possibilities are endless. It was an exciting discovery that would enable different industries to shape light and personalise their products. But we always knew we wanted to create our own brand, and build a product that was designed around the technology, rather than adapting to it. It was through meeting talented jewellery designer Noémie Arrigo, that we realised the unique potential for jewellery to bring to life our prototype and showcase the innovation — leading us to partner together in 2019 and launch THE RAYY.
What inspires your designs?
Noémie: My main source of inspiration is the beauty that is found in simplicity, which blends into my obsession with clean lines and minimal shapes. With a background in graphic design, I have always been interested in experimenting with abstract outlines and silhouettes, creating modern designs that are understated, yet full of character. With THE RAYY, it was a challenging yet exciting opportunity to create jewellery that was beautiful and intriguing—beyond its ability to project light—whilst having the right size and surface area to allow the technology to function. It was really the coalescing of science and art, and a quest to create minimalist pieces with personality, that defines our jewellery today.
What can we expect from your collections?
Romain: We offer everything from minimal rings to bejewelled wedding bands and sleek pendants that reflect personalised messages. Customers can choose from our ethically crafted rings in the Dot, Bar, Two Dots and diamond solitaire style, or the pendants in the Disk and Bar shapes. All pieces are made from responsibly sourced 18 karat gold, available in three colors: yellow, white and rose—some set with lab-grown diamonds—and are entirely customisable via our online platform. For our latest pendant collection, we collaborated with famed tattoo artist Sang Bleu, who created 12 hand-drawn Zodiac signs that are revealed through rays of sunlight. We have always been fascinated by star constellations and their movement in the universe. It's a really unique collection that fuses the worlds of tattoo art and jewellery, using one's body as a canvas, to project meaningful light symbols of identification. Noémie: All our collections are synonymous with movement, reflecting an overall aesthetic that is minimalist yet timeless, and reveals the hidden messages easily. Each piece tells its own unique story, and whether its stacking up different rings together, or buying matching pendants with a friend, the jewellery creates dialogue and is a playful tool for expression.
light-shaping fine jewellery
What are your favourite pieces?
Romain: I love the Bar ring because of its minimalist and universal shape. It's a futuristic looking piece that seamlessly projects the hidden light messages. Noémie: The Dot and Two Dot rings, worn together, are a total standout for me. Pairing them together creates an entirely new shape, and in some cases, a whole different conversation — it truly speaks to the brand and showcases how versatile the jewellery is.
Who wears THE RAYY jewellery?
Both: People who want something unique, innovative and completely different from the rest. They feel that the jewellery reveals something about their story, and they use it to express their individuality rather than follow the crowd. Most of our buyers are from the younger generation, and often are creative people who admire technology and design, and care deeply about the environment.
How does your brand approach sustainability? How do you source your materials?
Romain: Sustainability is at the core of our business, which is why we are committed to ensuring transparency and implementing responsible practices in everything we do. We work with 18 karat gold that is certified RJC CoC, which ensures an ethical production with sustainable practices. Our lab-grown diamonds also offer a conflict-free alternative, and display the same chemical and optical characteristics as 'traditional' diamonds. They are produced with renewable energy and have a much smaller social and environmental footprint than mined diamonds. Even down to manufacturing locally with the finest Swiss craftsman, we strive to empower local communities and reject the waste seen in mass production. Consumers of THE RAYY are not only empowered to express themselves, but when wearing our pieces they inherit an ethical mind-set too.
What makes THE RAYY different?
Both: It's the unique combination of science and art, and creating value through design and innovation. By adding a new dimension to the jewellery— through taming the light— we have forged a unique position in the market, creating pieces that serve as a symbol of superior craftsmanship, sustainability and technological advancement.
Recalling the universe's stars and galaxies
Elevated Living Newsletter
Sign up to our weekly newsletter and get inspiration and news delivered straight to your inbox.