Fifteen years ago, when Swiss painter Simone Monney hosted her first exhibition in Gland, she was brand new to the art world. Fast-forward to today and her expressive paintings, with bold colours and mesmerising gestural strokes, granted her many more gigs—and exposure on the international art scene, too.
Graphist turned painter, Simone always had a love for art and design. She worked for many years at a renowned fragrance company in Switzerland, where she visualised inspiring concepts and trends for new perfume fragrances. The position inspired her creatively, but with an innate talent  and growing desire to enter the art world, Simone would go on to leave behind her corporate career and reinvent herself as an artist.
At present, Simone is known as a prizewinning painter whose brightly coloured canvases—with elegant abstractions and juxtaposing styles—have an impromptu look that pulls the viewer into them. Best described as a union of the senses, her paintings are inspired by her changing surroundings, using different paints, brushes and techniques to translate her sensory experiences into art. Simone's skill is really in capturing a moment in time, distilling everything she sees, hears and feels into stunning works of art.
Intrigued by her exponential growth as an artist—with exhibitions in cities like New York, Dubai and Paris—we sat down with Simone to discover more about her journey and how she became the painter of today.
How did you get into painting? Tell us a bit more about your journey?

Ever since I can remember I loved to create. From as early as 8 years old, I would draw anything I could—from cartoon figures to famous personalities—and clothing which I later made. I was inspired by everything around me and driven to express it creatively. I didn't attend art school either, but instead, informed myself through practicing my hobby. I ended up working in marketing and graphic design, where for 15 years I visualised concepts and trends for perfume fragrances at Firmenich. It was an extremely fulfilling experience, but after starting a family I knew I wanted a slower pace of life. I took up painting as another hobby, and ended up discovering I had an inherent skill and passion for it. My husband convinced me to start sharing my work publicly, so we organised my first exhibition at his office in Gland. I sold every single painting at the exhibition, and knew from that moment onwards, I would start my career as a painter.
What inspires your designs?
Everything is inspired by my senses: what I see, feel, hear and touch. It could be anything from the morning light over the lake and mountains, to a combination of colours on a dress that inspires a spontaneous idea. My paintings capture a unique moment in time and my sensory reaction to it.
What is the first piece of art you ever made?
It all started with a painting I did of the Lac Leman, in Switzerland. I was inspired to capture the lake view from my window in Bursinel, but I didn't want to create something conventional and similar to what I usually see. Instead, I decided to use a red oil paint and depict the environment through different shades of this color. The results were magical, a scenic painting full of theatrical tricks and unconventional colors.
Can you tell us about your process of making art?
It depends on what I am creating, because I use a variety of different materials and techniques to achieve each design. If it's a painting from my 'Lyrical Abstraction' collection, it's achieved by making spontaneous and unpredictable gestures with Chinese ink and acrylic paint. A bit like a musical composition—consisting of different lyrical layers— I use a thick brush to create delicate gestures that build upon each other, and form one harmonious whole. Depending on how I feel, I'll either leave the piece this way or transform it completely, adding dramatic colors—like those seen in my pop-art inspired collection. All the layers are like a jigsaw puzzle, and it's my job as an artist to make them fit together in harmony.
What do you love most about painting?

It's the feeling of total escape: the moment you indulge deep into your artwork and forget everything around you. When I'm painting I enter a bubble and loose all sense of space and time—it feels like the universe has stopped. It's not about the sales or recognition from institutions, but the pure joy and satisfaction that I feel from painting itself. Art is exciting, therapeutic and extremely rewarding, and there is nothing better than letting your imagination run free.
What was one of your favourite projects and why?
I was invited by a gallery in Miami to have my paintings exhibited in a real-estate event. The experience consisted of transporting attendees along the waterways of Fort Lauderdale via complimentary yachts, making stops at different luxury waterfront properties that were exhibiting artwork from around the globe. I loved the idea of blending two different worlds together, creating a unique experience for buyers and a rewarding networking opportunity for artists.
Describe your art style in three words?
Lively, colourful and spontaneous.
Do you have any upcoming projects or exhibitions we should know about?
Currently I have an exhibition at the top floor of Bucherer in Geneva, which be running from now up until the end of November! I will also soon be announcing exciting news about a new exhibition in Vaud—its important to stay busy during these strange times, and not let the situation get in the way of your goals.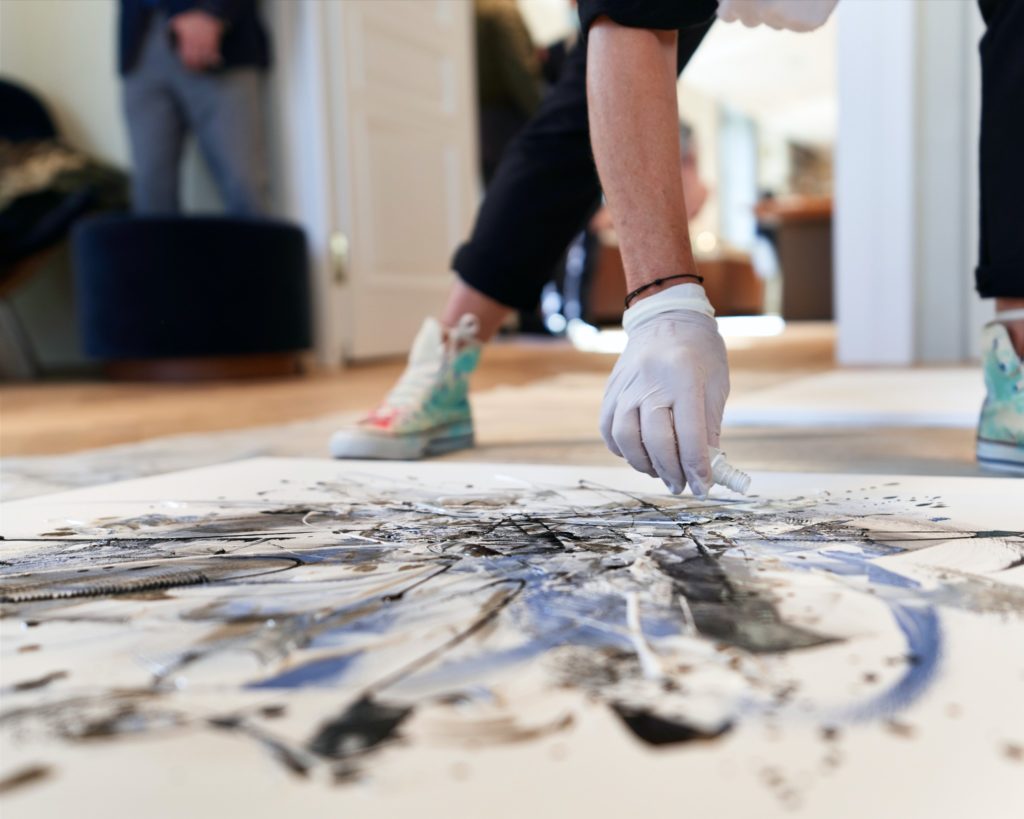 Elevated Living Newsletter
Sign up to our weekly newsletter and get inspiration and news delivered straight to your inbox.